Lake St Clair Walk by Walk Into Luxury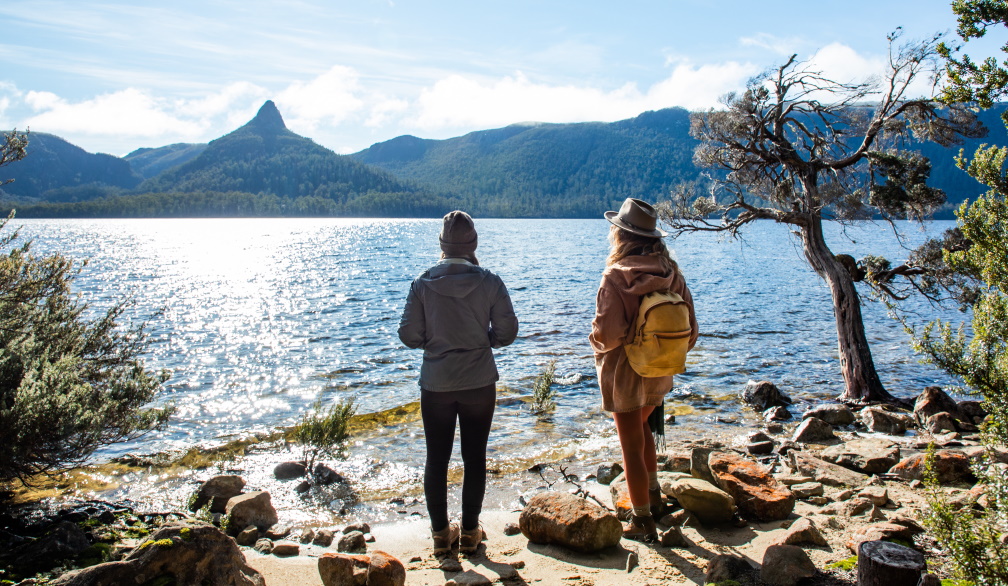 Award-winning tour operator, Walk into Luxury this week announces the launch of the 4 day Lake St Clair Walk in Tasmania; a new signature small group walk experience based out of Pumphouse Point. Weekly departures of the signature walk commence on 17 December 2021, with bookings now available (booking link below). 
The four day all-inclusive experience departs from Hobart and showcases the best walks at Lake St Clair and nearby Mount Field National Park. Carrying only a day pack, guests will discover Russell Falls, Lake Seal and Lake Dobson at Mount Field; and Shadow Lake, Platypus Bay and Echo Point at Lake St Clair, with 35km covered in total. There is the chance to view Lake St Clair and the surrounding mountains from the lake one day, and plenty of wildlife viewing opportunities with wombats, wallabies (padymelons), echidnas and platypus just a few of the locals able to be spotted on the walk. At the end of four days in the Tassie wilderness, guests visit a Tasmanian distillery for an exclusive tasting and lunch by the Derwent River before returning to Hobart.
Three nights' accommodation is included at boutique property, Pumphouse Point, located within the world heritage listed Tasmanian wilderness area and overlooking Lake St Clair. Guests relax each evening around cosy lounge fireplaces overlooking the lake and enjoy three course dinners with local Tasmanian wines. An in-room larder of local cheese, chocolate and other provisions is also included. Walkers sleep in the sought-after Pumphouse rooms perched at the end of the jetty on Lake St Clair, offering the chance to fall asleep to the sound of the water lapping against the walls. A perfect end to a day walking in this pristine wilderness area. 
"The Lake St Clair region and Mount Field contain some of the best day walks in Australia. We're excited to share these spectacular alpine and wilderness landscapes with our guests led by our local guides. To finish a day on the trails with a glass of red by the fire overlooking the lake at Pumphouse Point makes this a perfect wilderness escape", says Walk into Luxury Managing Director, Nikki King.    
To support the operation of its Lake St Clair Walk, Walk into Luxury will open its second Australian base in Hobart. "A permanent Hobart base opens the door for Walk into Luxury's guides and drivers to look after clients visiting Tasmania with truly unique private journeys combining Tasmania's best walks and lodges.", Nikki said.
The 4 day Lake St Clair Walk is priced at $3150 per person, twin share, and departs weekly on Fridays from 17 December 2021 to end April (with subsequent seasons expected to run from Oct-April). Transfers from Hobart are included.
Book online and view itinerary
Learn more: walkintoluxury.com.au/lakestclairwalk
More about Walk into Luxury
Walk into Luxury is an award-winning Australian tour operator specialising in luxury walking tours and private journeys combining luxury lodges and nature-based experiences. Walk into Luxury has been named Best Tour Operator at the Qantas WA Tourism Awards and was a finalist in the National Tourism Awards and Luxury Travel Magazine's Gold List for four consecutive years in the Best Luxury Tour Operator category. Walk into Luxury's signature 4 day Cape to Cape Walk in Margaret River is one of the 12 Great Walks of Australia. Walk into Luxury holds Advanced Ecotourism Certification.
Learn more: www.walkintoluxury.com.au
More about Pumphouse Point
Pumphouse Point is Tasmania's iconic boutique wilderness retreat, perched mysteriously over Lake St Clair. A former hydro-electricity pump station, heritage buildings have been gently transformed into one of Australia's most unique hotels, featuring honesty bars, shared-table dining and massages all within the wilderness World Heritage Area of Lake St Clair National Park, with e-bikes, rowboats and hundreds of kilometers of walking trails at guests' fingertips. 
Learn more: www.pumphousepoint.com.au