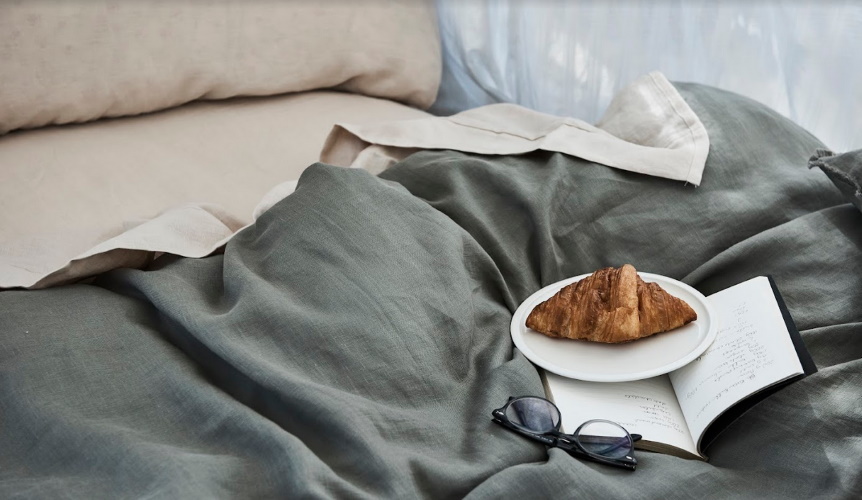 Bringing honest and everyday luxury into Australian bedrooms
Bundle items together for 20% off
Today, iconic Australian bedding and homewares brand, Dri-Glo, launches a new premium collection and e-commerce store, complete with custom bed & bath sets that bring beautiful, modern and dreamy bedrooms to life.  
From the first towels that rolled off the looms in Yarraville, Victoria, in 1930, to today's premium collection, available exclusively online, Dri-Glo has graced homes all over Australia for decades. 
This enchanting new collection boasts many timeless products, including the brand's statement line - luxury pre-washed and pre-shrunk 100% linen quilt sets and sheets; designed to last and get softer with every sleep.  
The collection's bedroom offering is bolstered by beautiful textures and tones in their 100% Australian cotton pieces, fun and eye-catching kids bedding staples, and striking cushions, all ensuring this new range weaves perfectly into any Australian home. 
Moving to the bathroom, feathery soft towels available in various colours, including Moonbeam and Seaspray, will complement any aesthetic, while 100% linen curtains will become the timeless staple of any room. Bundle any Dri-Glo products together for 20% off. 
Renowned for quality craftsmanship, this luxurious new range combines product innovation with the highest standard of sustainable materials, designed with longevity in mind to ensure a longer lifespan and better disposability. Quintessentially Australian in style with on-trend tones and textures, Dri-Glo's products perfectly suit relaxed, coastal aesthetics, cosy country charm, or modern, minimal decor.  
This premium collection, featuring an extensive array of stunning new products, is available exclusively via Dri-Glo's newly launched e-commerce store. Prices start from $9.99 for face washers to $279.99 for Dri-Glo's charming 100% linen sheets in king size. 
For more information visit www.dri-glo.com.
About Dri-Glo
Across city, country and coast, Dri-Glo has always been synonymous with craft and quality. Woven into Australian life since 1930, Dri-Glo's range of quilt cover sets, sheets and towels bring honest, everyday luxury into every Australian home. From the bright checks and pop art squares of the 50s, to the vibrant florals of the 70s, to the timeless classics of today.
Dri-Glo continues to reach new levels of sustainability by focusing on reducing the environmental impacts both in operations and products functionality. 
To view the collection lookbook, click here. 

Linen quilt set, available in five colours, from $229.99

Linen sheet set, available in five colours, from $249.99

Linen quiltlet, available in three colours, from $299.99

Ribbed jacquard quilt, available in white, from $159.99

Yarn-dyed wrinklet quilt set, available in two colours, from $159.99

Vintage denim, quilt set, from $199.99

Chambray sheet set, available in four colours, from $129.99

Kids quilted chambray quilt set, available in two colours, from $129.99

KIds quilted geo quilt set, available in two colours, from $129.99

Kids gingham sheet set, available in two colours, from $109.99

Linen quilted bolster cushion, available in three colours, $39.99

Lids breakfast cushion, available in four colours, $29.99

Ribbed bath sheet, available in four colours, $39.99

Ribbed bath towel, available in four colours, $29.99

Ribbed face washer,  available in four colours, $9.99

Ribbed hand towel, available in four colours, $14.99

Ribbed bath mat, available in four colours, $29.99

Waffle bath sheet, available in four colours, $39.99

Waffle bath towel, available in four colours, $29.99

Waffle face washer,  available in four colours, $9.99

Waffle hand towel, available in four colours, $14.99

Waffle bath mat, available in four colours, $29.99

Linen curtains, available in three colours, from $149.99